Shop
Soap Pockets - 100% Cotton
The 100% cotton 2-n-1 Soap Pocket consists of an exfoliating pad on one side and a cleansing pad on the other side. The soap pocket can hold our organic African Black Soap and a normal size bar of soap and has a looped drawstring so that you can conveniently hang it in your shower or bath. The exfoliating pad is made from 100% Turkish cotton that effectively exfoliates away dead skin cells and surface impurities while the cleansing pad, made from 100% American cotton, provides gentle cleansing. When not in use, the pocket allows for continual air flow to prevent the build-up of mold, mildew, and bacteria. You can leave the soap in the pocket when not in use; but we recommend you remove it so the soap can quickly dry; allowing it to last longer.
Exfoliating effectively unclogs pores, allowing skin to breathe freely and naturally. It banishes dullness to reveal smoother, more radiant and healthy skin. Each textured pad gently lifts away embedded impurities and dead skin cells allowing the skin to feel soft, healthy, revitalized, and tingly clean. They are gentle enough for daily use or when skin is tired or dull looking. Use in conjunction with our 100% cotton REVEAL cleansing pads and your favorite natural cleanser to cleanse and gently exfoliate the face and neck areas.
Specifications:
Size: 4" x 3.5"
Note: Soap is not included
• 100% cotton
• Free of synthetic fibers and dyes
• Gentle & non-irritating
• Safe to use on the face and neck
• Cruelty free
• Exfoliates off dead skin cells
• Gently cleanses away makeup
• Kick starts skin's own renewal process
• Reveals radiant and healthy skin beneath
• Reusable and durable
• Great way to keep your tiny soap fragments from washing down the drain
• Can also use for household cleaning
Coffee (rich brown)
Douglas Fir (deep green)
Honeydew (soft green)
Linen (beige)
These soap pockets are handknitted in the US by the company KnitZ's KneedleZs.
Click on ADDITIONAL INFO for specifications and to LEAVE A REVIEW.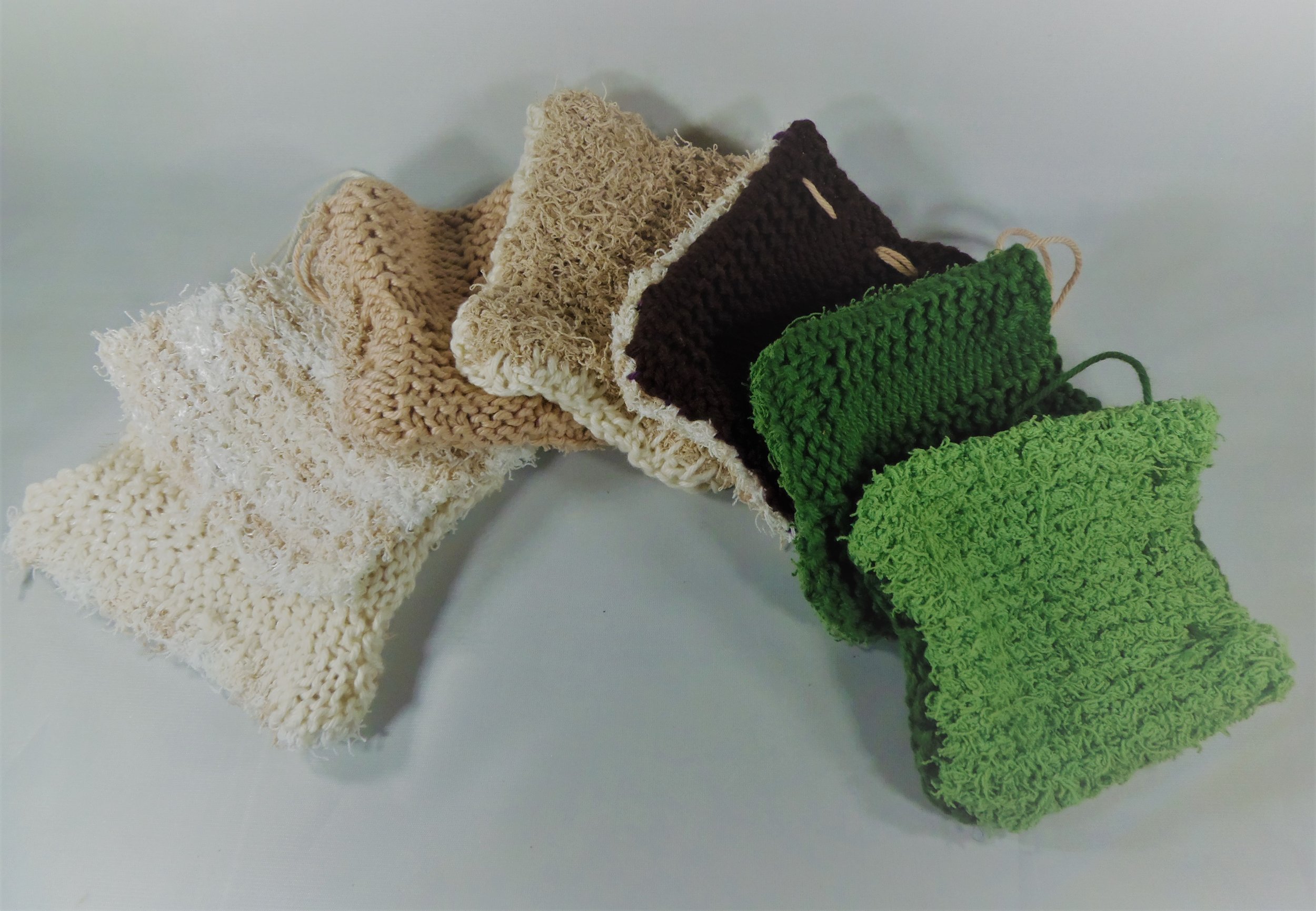 Additional Info
How to Use
Place your favorite soap inside and pull the drawstring. Wet with warm water and gently massage over the skin with a smooth circular motion, concentrating on any rough areas. Use the cleansing side to gently wash the skin and use the exfoliating side, when you need to exfoliate (do not exfoliate the face and neck more than once a week. The pocket allows for great lather if you are using a regular, commercial soap. If you are using our organic African Black Soap, you will still achieve the normal amount of lather.
Tips on Properly Cleansing Your Face and Neck
Washing your face and neck seem pretty simple, right? The issue is that you can cause more harm than good if you don't do it right, and that can result in some pretty significant issues like dryness, irritation, and premature sagging and wrinkles. To ensure you avoid the top mistakes when you're cleansing or how to correct them. Read on below!
1. Pick the right cleanser: Depending on your skin type, you need to pick a pH-balanced cleanser that's perfect for your face and neck. Our REVEAL oil-based cleansers offers gentle, effective cleansing for all skin types or you can use a foaming or gel cleanser for oily skin and a creamier cleanser for dry skin. Just steer clear of bar soap (except organic African Black Soap) because they are too drying; and cleansers with harmful ingredients. Always read ingredient labels.
2. Make sure your hands are clean: Many people skip this step; but it's so simple. Dirty hands mean you're trying to cleanse your skin with, well, dirty hands. Wash your hands first, then wash your face and neck.
3. Wash your exfoliating and cleansing pads: When you're using an exfoliating pad and/or cloth, make sure they are clean, too. Either wash the pads every single day or use new ones each time you wash your face and neck. Unclean pads can re-deposit dirt and grime right back to your skin. We offer our REVEAL Cleansing Pads in sets of 7 so that you have one for each day.
4. Use warm water: You want to use lukewarm water to ensure that your skin remains hydrated and unaffected. A happy medium for best results is water that is not too hot and not too cold.
5. Don't over-exfoliate: A lot of people go at their skin with a bit too much gusto with scrubs and exfoliants, but you must be gentle with your face and neck. You also want to avoid using harsh grains. Use a gentle exfoliant, such as our REVEAL Exfoliating Face Scrubs, so you don't cause damage to the skin. Additionally, you should never exfoliate your face and neck more than one time each week.
6. Get rid of the cleanser completely: Make sure to cleanse your face and neck completely. That is, completely rinse all cleanser from your face and neck. Leaving residue can lead to dryness.
7. Twice a day, no exceptions: Most people don't wash their face and neck enough. You should wash your face and neck twice a day: once in the morning when you wake up to remove the dirt and bacteria that gathers on your skin while you're sleeping, then again at night to take off makeup and the grime collected throughout the day.