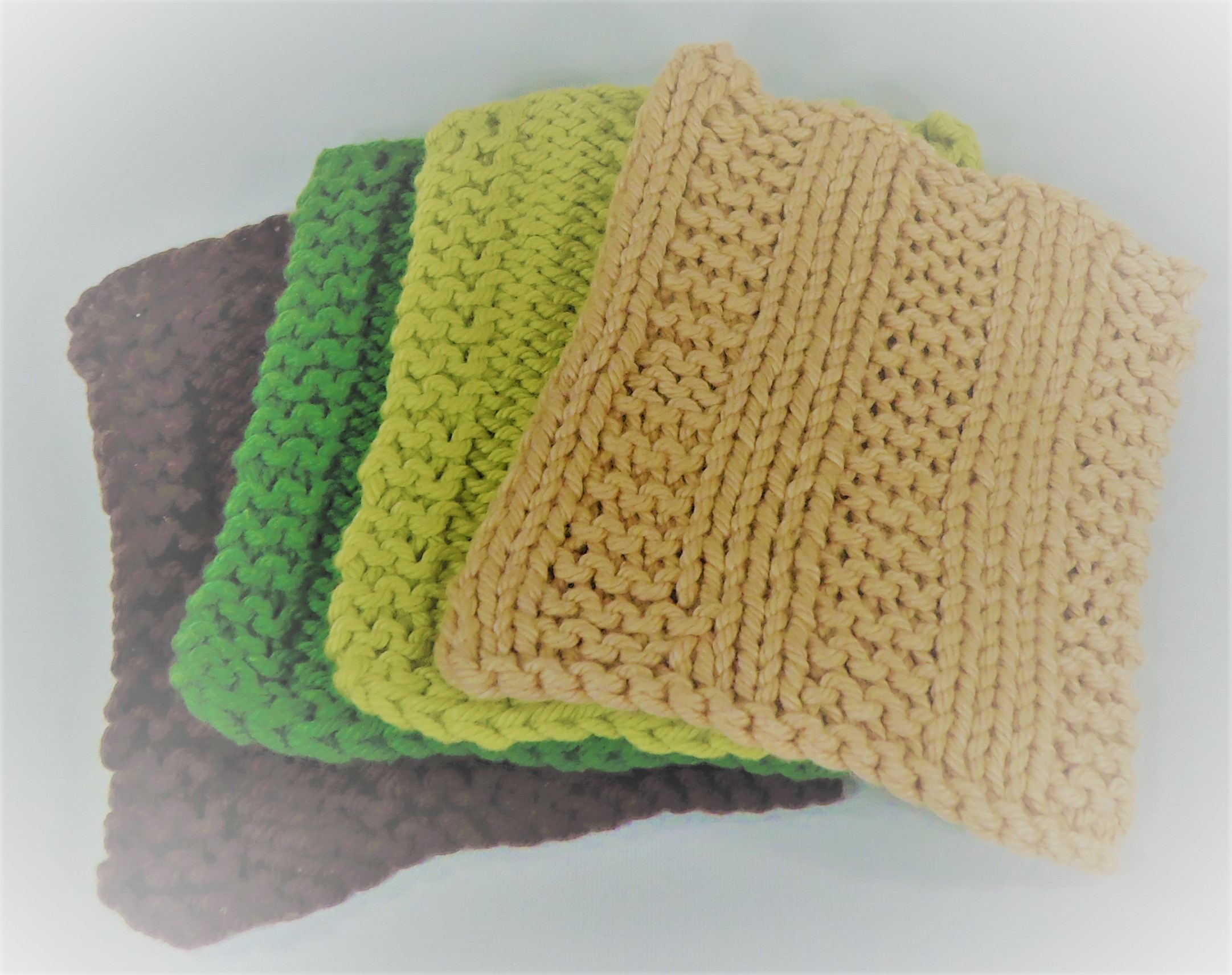 Shop
Face Pads - 100% Cotton - Exfoliating
Behold the power of 100% cotton that is grown in America! Pamper your face the smart and healthy way with these exfoliating cotton face pads that are handknitted in the US by the company KnitZ's KneedleZs. Knobby enough to exfoliate your skin, yet gentle enough for cleansing your face and removing makeup. These pads are perfect for those individuals who don't want to use the commercially produced exfoliating puffs and sponges that have a tendency to harbor mold, bacteria, and mildew which can lead to breakouts, rashes, and any number of other skin and health issues. These pads are very durable, can be machine washed and will maintain their shape if placed in the dryer. However, we recommend you lay them flat to dry.

Our exfoliating face pads are a manageable 4" X 4" size that's perfect for exfoliating, cleansing, and toning the face or removing makeup.

Coffee (rich brown)
Douglas Fir (deep green)
Honeydew (soft green)
Linen (beige)
Click on ADDITIONAL INFO for tips on cleansing your face and to LEAVE A REVIEW.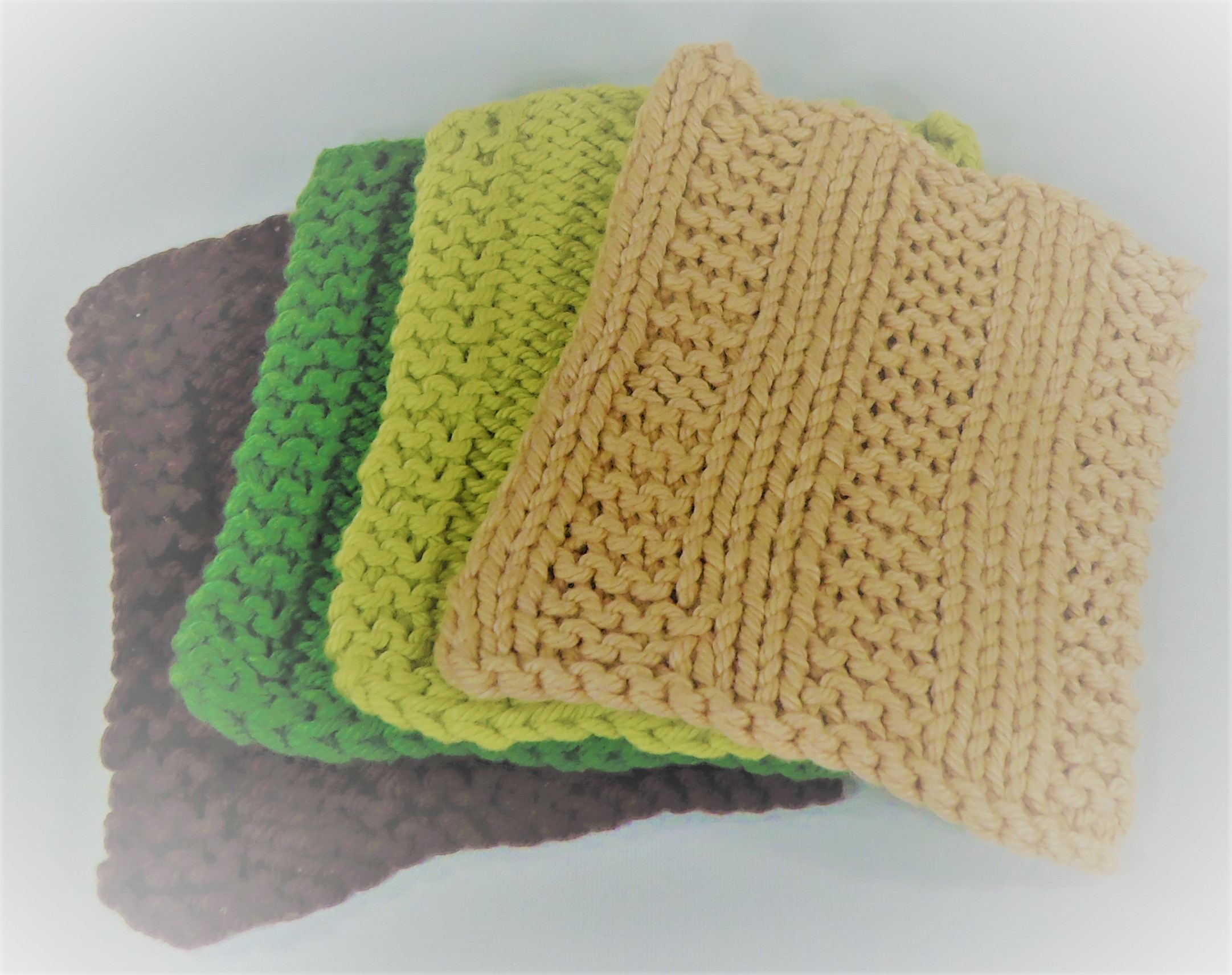 Additional Info
Tips on Properly Cleansing Your Face and Neck
Washing your face and neck seem pretty simple, right? The issue is that you can cause more harm than good if you don't do it right, and that can result in some pretty significant issues like dryness, irritation, and premature sagging and wrinkles. To ensure you avoid the top mistakes when you're cleansing or how to correct them. Read on below!
1. Pick the right cleanser: Depending on your skin type, you need to pick a pH-balanced cleanser that's perfect for your face and neck. Our REVEAL oil-based cleansers offers gentle, effective cleansing for all skin types or you can use a foaming or gel cleanser for oily skin and a creamier cleanser for dry skin. Just steer clear of bar soap (except organic African Black Soap) because they are too drying; and cleansers with harmful ingredients. Always read ingredient labels.
2. Make sure your hands are clean: Many people skip this step; but it's so simple. Dirty hands mean you're trying to cleanse your skin with, well, dirty hands. Wash your hands first, then wash your face and neck.
3. Wash your exfoliating and cleansing pads: When you're using an exfoliating pad and/or cloth, make sure they are clean, too. Either wash the pads every single day or use new ones each time you wash your face and neck. Unclean pads can re-deposit dirt and grime right back to your skin. We offer our REVEAL Cleansing Pads in sets of 7 so that you have one for each day.
4. Use warm water: You want to use lukewarm water to ensure that your skin remains hydrated and unaffected. A happy medium for best results is water that is not too hot and not too cold.
5. Don't over-exfoliate: A lot of people go at their skin with a bit too much gusto with scrubs and exfoliants, but you must be gentle with your face and neck. You also want to avoid using harsh grains. Use a gentle exfoliant, such as our REVEAL Exfoliating Face Scrubs, so you don't cause damage to the skin. Additionally, you should never exfoliate your face and neck more than one time each week.
6. Get rid of the cleanser completely: Make sure to cleanse your face and neck completely. That is, completely rinse all cleanser from your face and neck. Leaving residue can lead to dryness.
7. Twice a day, no exceptions: Most people don't wash their face and neck enough. You should wash your face and neck twice a day: once in the morning when you wake up to remove the dirt and bacteria that gathers on your skin while you're sleeping, then again at night to take off makeup and the grime collected throughout the day.